Imagine stepping into your backyard and being transported to a luxurious oasis, complete with sparkling water, captivating lighting, and innovative features that cater to your every need.
With the right pool features, Earthform can transform your outdoor space into a stunning retreat that not only enhances the beauty of your property but also elevates the functionality.
Whether you're looking for relaxation or entertainment, there are countless options available on the market today that can take your pool experience to the next level.
From infinity edges that create an illusion of boundlessness to Bullfrog Spas that offer customizable massages at your fingertips, luxury pool features have never been more diverse or customizable.
So why settle for a traditional swimming pool when you can have a bespoke outdoor paradise?
Let's take a closer look at some of the most exciting innovations in luxury pool design and discover how they can elevate your backyard experience like never before.
Key Takeaways
– Custom Luxury pool features can transform outdoor spaces into stunning retreats and elevate their functionality, while being diverse and customizable to cater to individual needs. Saltwater Pools offer a more relaxing pool experience, reducing that strong chemical smell and improving water feel.
– Water features like waterfalls, fountains, and slides provide entertainment and relaxation, and infinity edge pool designs allow for innovative water features.
– LED lights can enhance the ambiance of evening swims and create a stunning visual display that is customizable to set the mood for any occasion.
– Bullfrog Spas offer a JetPak Therapy System for relaxation and pampering, and are built without wood or metal to prevent rot or corrosion, while the Hayward Omnilogic provides complete control over pool systems through a smartphone app.
Introduction

You're probably already familiar with Bullfrog Spas and their JetPak Therapy System, but did you know they're just one of the luxury pool features that can take your outdoor space to the next level?
A reputable pool builder can help you design a custom pool that includes water features such as waterfalls, fountains, and slides. These luxurious additions not only provide entertainment for your family and guests, but also create a relaxing atmosphere in your backyard oasis.
Additionally, consider incorporating lighting elements such as LED lights or colored underwater lights to enhance the ambiance of your evening swims. With all these options available, let your imagination run wild and create a truly unique outdoor living space that will be the envy of all your neighbors.
Infinity Edges: The Illusion of Boundlessness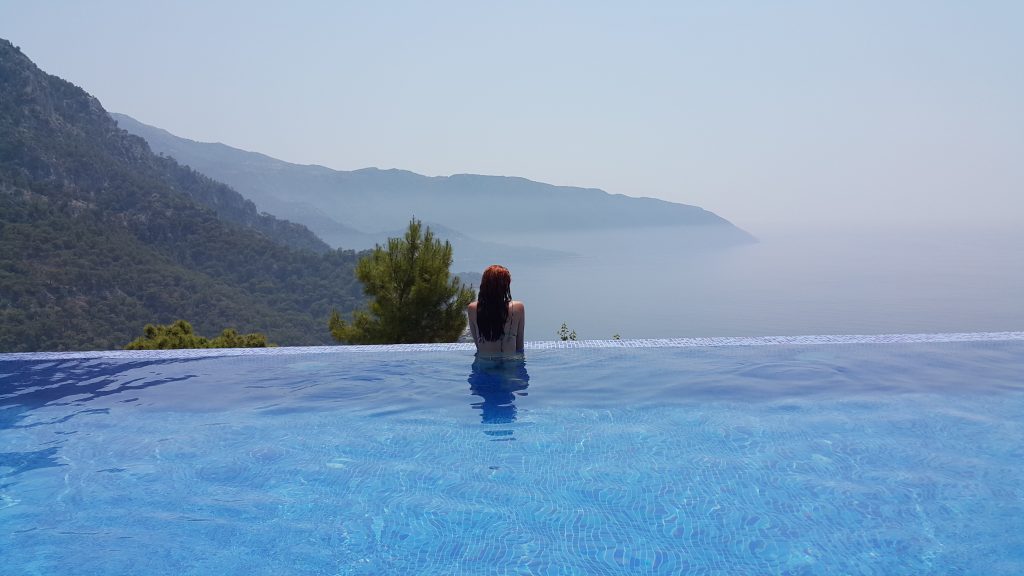 Experience the breathtaking illusion of boundlessness with an infinity edge
pool design. This luxury pool feature is perfect for those who want to take their outdoor space to the next level.
With a vanishing edge, you can create an uninterrupted view of your surroundings and feel as though you are swimming in a never-ending body of water. Not only does this type of pool construction add an element of elegance and sophistication to any backyard, but it also allows for innovative water features such as cascading waterfalls or fountains that enhance the overall sensory experience.
Plus, when combined with other luxurious pool features like Bullfrog Spas' JetPak Therapy System, you can create the ultimate oasis for relaxation and rejuvenation right in your own backyard.
So why settle for a standard pool when you can have the stunning beauty and endless possibilities of an infinity edge?
Waterfalls: A Serene and Captivating Touch
With the addition of a waterfall to your backyard oasis, you'll feel transported to a serene and captivating natural wonderland. Water cascades down in a gentle melody, creating an ambiance that soothes both the mind and body.
Did you know that the sound of flowing water can reduce stress and anxiety levels by up to 65%? Imagine lounging by your inground pool with a stunning rock waterfall feature just beside it. You could even add a grotto behind the waterfall for an added touch of luxury.
The mesmerizing display of water falling over rocks will not only provide relaxation but also add visual interest to your outdoor space. With various designs and sizes available, you can choose a waterfall feature that complements your swimming pool and transforms it into an extraordinary retreat.
Bullfrog Spas: Relaxtion and Pampering at Your Fingertips
Indulge in the ultimate relaxation experience with Bullfrog Spas' JetPak Therapy System. This system features up to 16 unique and interchangeable massages for complete relaxation and pampering. Imagine yourself lounging in your pool area or on your deck, surrounded by a beautifully landscaped high-end oasis. As you sink into the soothing waters of your personal retreat, all your worries will melt away.
With Bullfrog Spas, you can select preferred massages and place them in your favorite seats or move JetPaks from seat to seat. You can even upgrade with a new JetPak at any time, choosing from options like Alleviate, DeepRelief, Gyrossage, Lumbar, Oscillator, Pulsator, and RainShower. Whether you're a marathon runner needing muscle relief or a busy mom seeking some well-deserved me-time, there's a JetPak designed for you.
Bullfrog Spas are built without wood or metal to prevent rot or corrosion and eliminate unnecessary holes and plumbing. They're also the most energy-efficient in their class with full foam insulation and tight-fitting covers that keep the heat in while reducing noise pollution.
If you're not sure how to design your Bullfrog, no problem! Bullfrog's Online Design Studio tool offers personalized options for instant price quotes. With this tool, you can create the perfect outdoor space for relaxation and entertainment all year round. So why wait? Treat yourself to the ultimate experience with Bullfrog Spas today!
Hayward Omnilogic: Control and Convenience in the Palm of Your Hand
Imagine having complete control and convenience of your inground pool system right at your fingertips with the Hayward Omnilogic.
As a pool owner, you know how important it is to have an easy-to-use system that allows you to manage all aspects of your pool from anywhere, at any time. With the Omnilogic, you can do just that. Omnilogic even lets your control the temperature of your pool water from your phone and aids in pool maintenance.
This innovative technology gives you full control over every aspect of your new pool, including temperature, lighting, water features, and more. You can even schedule maintenance tasks or contact your pool service provider directly through the app for added convenience.
The Hayward Omnilogic truly takes luxury outdoor living to the next level by providing complete control and convenience in one sleek package.
Underwater Lighting: Setting the Mood and Enhancing Safety
Now that you've experienced the convenience of controlling your pool with Hayward Omnilogic, it's time to enhance the ambiance and safety of your outdoor space with underwater lighting.
Imagine diving into the crystal clear waters of your inground swimming pool at night, surrounded by a mesmerizing glow that illuminates every corner. With customizable LED lights, you can set the mood for any occasion and create a stunning visual display for your guests.
Not only does underwater lighting add an elegant touch to your pool area, but it also enhances safety by providing better visibility when swimming at night. Additionally, consider incorporating a fire feature near your pool to complement the warm glow of the lights and make those chilly nights cozy and inviting.
Upgrade your outdoor living space today with these luxurious pool features and take relaxation to new heights!
Conclusion
Congratulations! You've just discovered some of the best luxury pool features that will take your outdoor space to the next level. By incorporating these innovative elements, you'll be able to transform your backyard into a luxurious oasis that you and your loved ones can enjoy all year round. From grottos, ledges and fire pits to jets, water slides and poolside fire bowls, Earthform can deliver every aspect of your dream Luxury Pool Project.
From the illusion of boundlessness with infinity edges, to the captivating serenity of waterfalls, there are so many ways to elevate your pool experience. And when it comes to relaxation and pampering at your fingertips, nothing beats Bullfrog Spas. With their JetPak Therapy System, you can customize up to 16 unique massages and move them from seat to seat depending on your mood or lifestyle.
But why stop there? Take control of your pool system with Hayward Omnilogic – an advanced automation system that allows you to manage everything from lights and temperature, to pumps and filters right from the palm of your hand. And let's not forget about underwater lighting which enhances both safety and ambiance.
So go ahead – invest in luxury pool features that will make a real difference in how you experience your outdoor space. Don't just take our word for it though; try these features out for yourself and see how they can truly transform even the most ordinary backyard into something extraordinary.