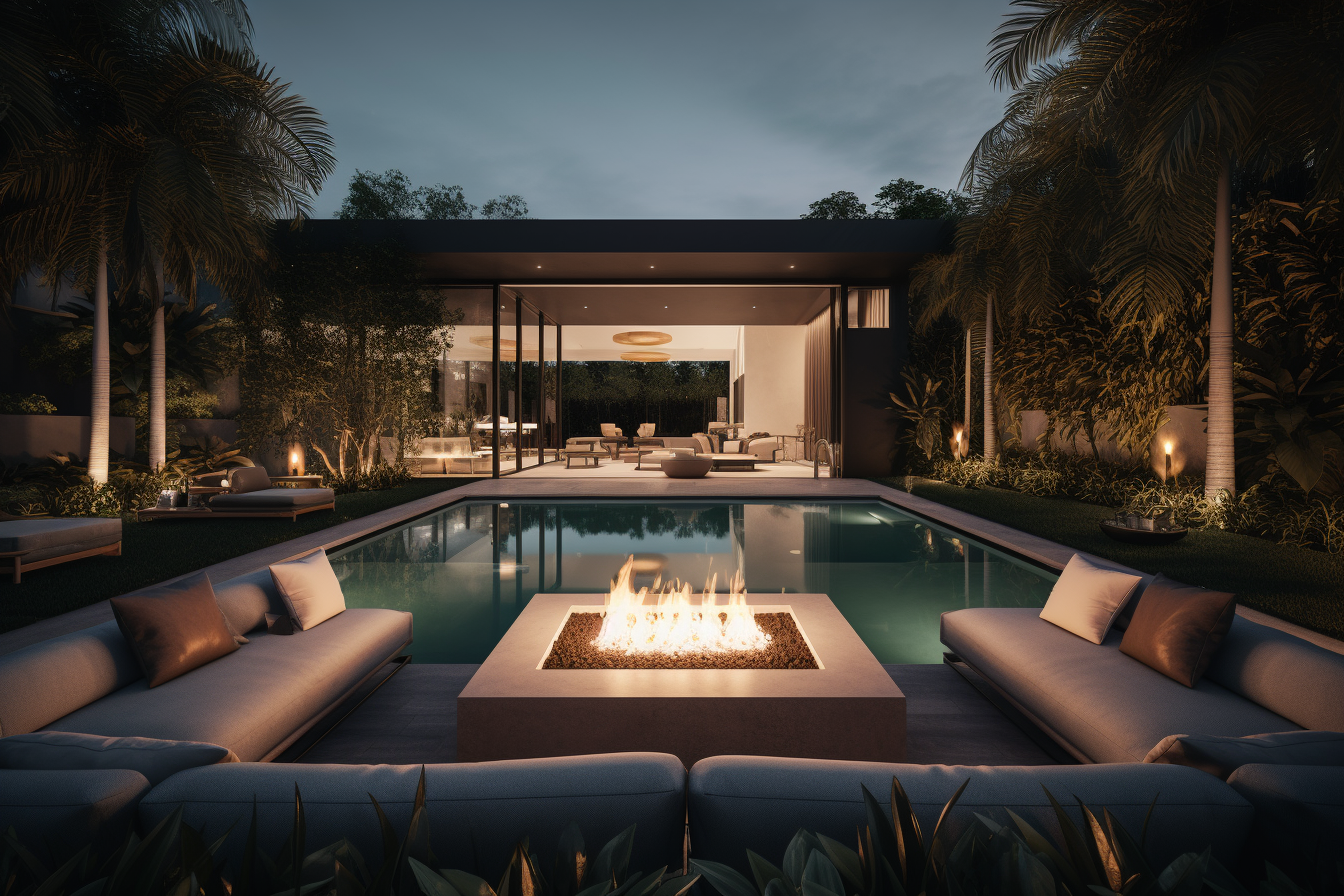 Picture yourself lounging on a plush, outdoor sofa with a refreshing cocktail in hand. The sun is shining down on your face, and you can feel the gentle breeze rustling through the trees. You look around and see a beautifully landscaped garden surrounding you, complete with a stunning pool that sparkles in the sunlight. This isn't just any backyard – this is your luxurious outdoor oasis.
Transforming your outdoor space into a paradise may seem like a daunting task, but it's easier than you think. Earthform can take care of it all for you. Book a consultation here. With the latest trends in luxury backyard design, you can create an extension of your home that reflects your personal style while providing comfort and entertainment for you and your guests.
From elegant pool designs to high-tech automation systems, there are endless possibilities to make your backyard dreams come true. So why settle for an average outdoor area when you can have a breathtaking retreat right outside your doorstep?
Creating the Foundation: Elegant Pool Design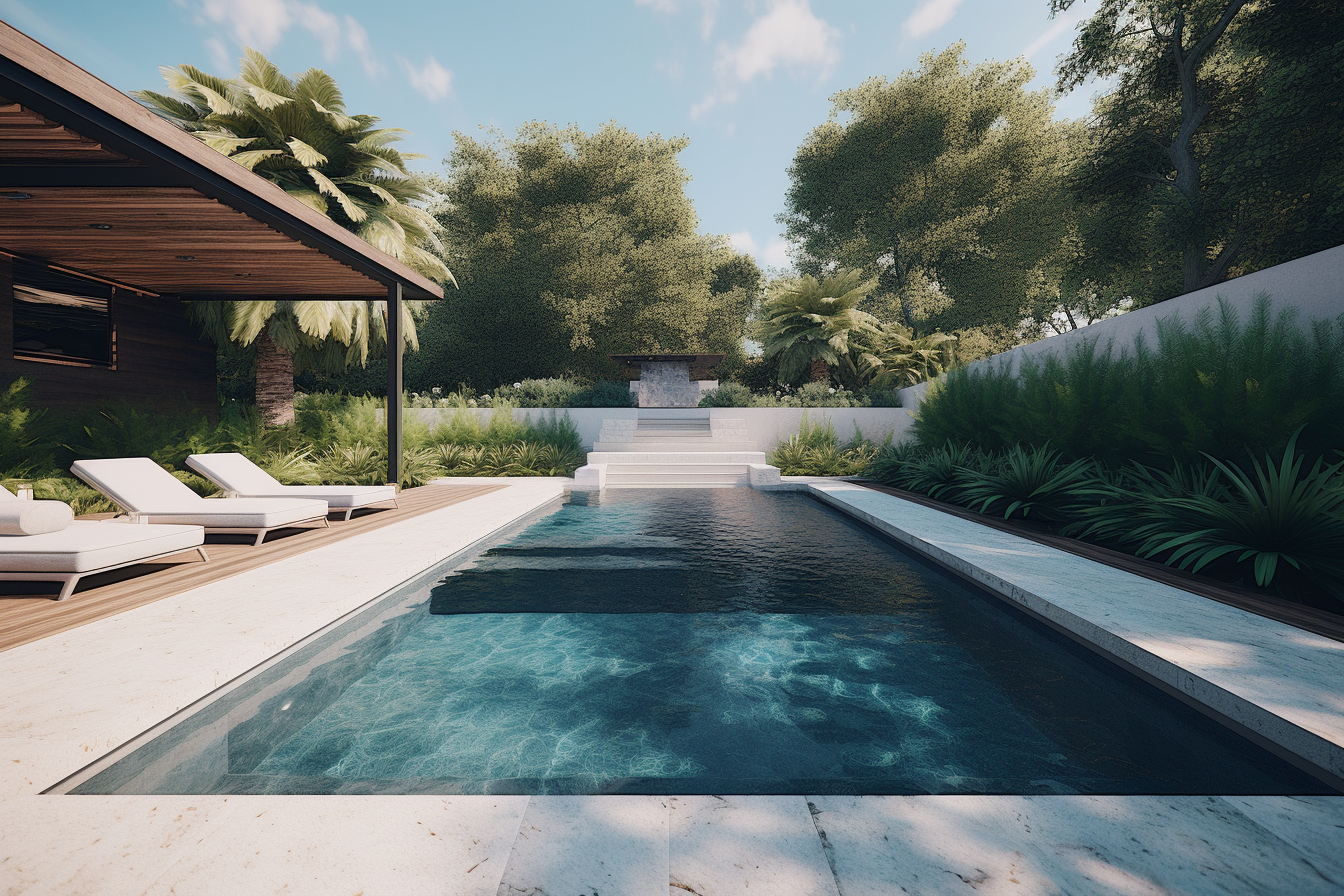 You can't go wrong with a stunning pool as the centerpiece of your outdoor oasis – it's the cherry on top that sets the tone for the rest of your backyard shindig.
From inground pools to hot tubs and spas, there are endless possibilities when it comes to designing your dream pool.
If you're looking for a luxurious option, consider adding features like waterfalls, infinity edges, or even an underwater music system.
If you're seeking inspiration for your next pool design project, look no further than Prince Edward Island. This Canadian island is home to some of the most beautiful and creative pool designs in the world, many of which us at Earthform are proud to have designed and installed.
Whether you're looking for a modern geometric shape or a freeform naturalistic style, there are endless options to choose from.
So why settle for a boring backyard when you can create an outdoor retreat that is both functional and aesthetically pleasing?
Stylish Landscaping: Blending Nature and Luxury
For a truly sophisticated outdoor area, explore ways to seamlessly integrate lush greenery and high-end features. Landscaping is an essential element in transforming your backyard into a luxurious oasis. It's not just about planting flowers and bushes; it's about creating an ambiance that elevates the overall aesthetic of your outdoor space.
Here are some landscaping ideas that can help you achieve the perfect blend of nature and luxury:
– Incorporate water features such as pools, hot tubs, or spas for a relaxing retreat.
– Use lighting strategically to highlight different areas of your yard and create a cozy atmosphere.
– Choose plants that are native to your area for easy maintenance and sustainability.
By incorporating these elements into your backyard design, you can create an outdoor space that is both functional and stylish. Don't be afraid to experiment with different textures, colors, and materials to achieve the look you desire. With careful planning and attention to detail, you can transform your backyard into a luxurious haven that reflects your personal style.
Outdoor Living Spaces: Comfort and Entertainment
Get ready to relax and entertain in style with outdoor living spaces that are all the rage these days. Not only do they increase your home's value by up to 12%, but they also offer a comfortable and inviting space for you to unwind after a long day or entertain guests on the weekends.
Whether it's a cozy seating area with plush cushions, an outdoor kitchen equipped with state-of-the-art appliances, or a hot tub for soaking under the stars, there are endless options for creating your dream backyard oasis.
When designing your outdoor living space, consider what features will best suit your lifestyle. If you love to swim, adding a pool is an obvious choice. But if you prefer something more low-maintenance, perhaps a spa or hot tub would be better suited to your needs.
Don't forget about practical considerations like storage and service areas for keeping supplies organized and easily accessible. With so many options available at your local home improvement store or through professional design services, transforming your backyard into an extension of your home has never been easier!
Technology and Automation: Enhancing Convenience
Let's take a look at how technology and automation can make our lives easier by adding convenience to our outdoor living areas. With the latest advancements in smart home technology, it's now possible to control almost everything in your backyard with just a tap of your finger on your smartphone or tablet.
Here are five ways that automation can help you create a luxurious oasis in your own backyard:
– Automated irrigation systems: Say goodbye to dragging hoses around your yard or worrying about forgetting to water your plants. An automated irrigation system allows you to set schedules and even adjust watering levels based on weather conditions.
– Island hot tubs: Imagine soaking in a hot tub while feeling the cool breeze from the ocean and watching the sunset over the horizon. Island hot tubs offer all of those experiences, along with privacy and luxury.
– Sauna heaters: A sauna is not only relaxing but also has numerous health benefits such as improving circulation and reducing stress. With an automated sauna heater, you can easily control temperature settings and enjoy this ultimate spa experience whenever you want.
– Smart lighting: Set the mood for any occasion with smart lighting options that allow you to adjust brightness, color, and even create custom lighting scenes for different events.
By incorporating these technological advancements into your outdoor living area, not only will you enjoy added convenience but also elevate its overall luxuriousness.
Outdoor Entertainment and Recreation: Beyond the Pool
Nowadays, we all crave more than just a pool in our backyards for entertainment and recreation. With the rise of outdoor living spaces, homeowners are looking for ways to add new elements that will take their backyard experience to the next level.
From outdoor kitchens and dining areas to fire pits and hot tubs, there are countless options available to transform your outdoor space into a luxurious oasis. One popular trend in outdoor entertainment is creating a movie theater experience under the stars. This can be achieved by installing an outdoor projector and screen or even building a permanent structure like an open-air cinema with comfortable seating and surround sound.
Other fun additions include game areas with ping pong tables or bocce ball courts, as well as putting greens for golf enthusiasts. By incorporating these unique features, you'll be able to enjoy your backyard not only during the day but also long into the night with family and friends.
Conclusion
Congratulations! You're now equipped with the latest trends in luxury backyard design. With your new knowledge, you can transform your outdoor space into a haven of elegance and comfort.
Gone are the days of basic pools and boring landscapes. Today's designs incorporate stylish landscaping, comfortable outdoor living spaces, and cutting-edge technology to enhance convenience.
To truly take your backyard to the next level, consider adding anachronisms like vintage light fixtures or retro seating options that add a touch of nostalgia and personality to your space.
By incorporating these elements into your design, you can create a luxurious oasis that will be the envy of all your guests. So go ahead and start planning – it's time to turn your backyard dreams into reality! You can get started today by reaching out to our team, book a consultation with our experts here